Who are the Republican candidates to be US House Speaker?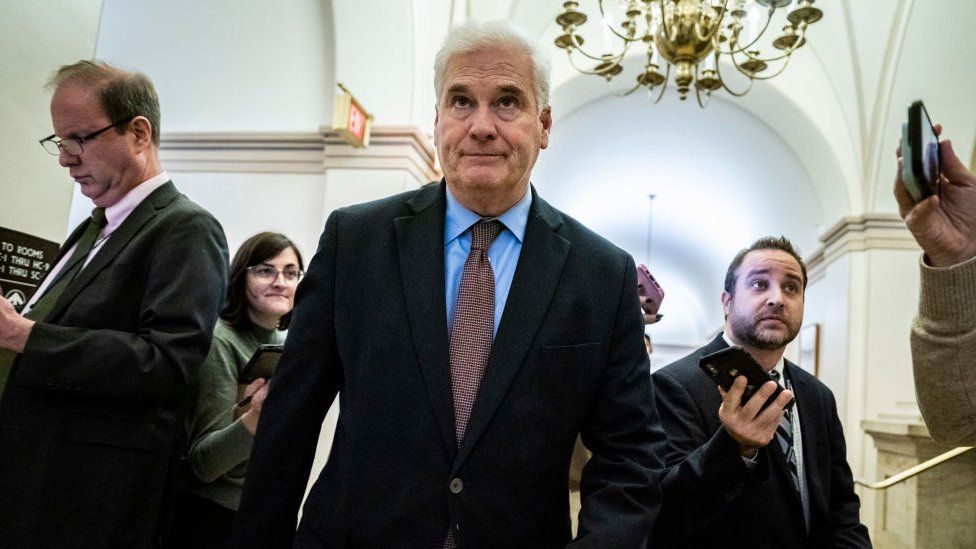 Republicans are meeting to pick their nominee for House of Representatives Speaker, three weeks after a right-wing mutiny ousted their last leader.
The US legislature has been unable to pass bills since Kevin McCarthy was removed on 3 October.
House Republicans heard from a host of candidates at an internal party meeting on Monday.
A series of secret-ballot votes began on Tuesday and will continue until a nominee emerges with majority support.
After a few lightning round of votes, only two candidates were left standing: Tom Emmer and Mike Johnson.
A full vote by the House will follow after the party chooses, and the nominee must then win up to 217 votes to become Speaker.
Last week, embattled House Republicans took steps to remove Jim Jordan as the party's nominee after three unsuccessful rounds of votes.
A previous nominee, Steve Scalise, abruptly dropped out on 13 October, just a day after his party chose him.
Let's take a look at the lesser-known men who are still vying for the powerful position second in line to the presidency, and those who were eliminated in the rounds of voting.
Tom Emmer, 62, is currently House Majority Whip, making him the third-most powerful Republican in the House.
A former college ice hockey player and coach, Mr Emmer also previously served as chairman of the National Republican Congressional Committee, which works to help party candidates win elections across the US.
Mr Emmer, however, may have difficulties in securing votes from right-wing Republicans and allies of former President Donald Trump, some of whom have criticised him for voting to certify the results of the 2020 election in Joe Biden's favour. Only two of the eight Republican Speaker candidates chose to do so.
Mike Johnson of Louisiana
Mr Johnson, 51, is a lawyer and former talk radio host who has served on the House since 2016. He is also the former chairman of the Republican Study Committee and is considered a close ally of Mr Jordan.
In 2020, Mr Johnson was considered a key player in the bid to object to Joe Biden's victory in the 2020 presidential election.
In a letter to his colleagues, Mr Johnson vowed to "fight ceaselessly for our core conservative principles and policies".
After Monday's meeting, he told reporters each of the candidates presented a strong case.
"I think everybody is singing off the same sheet of music," he told NBC News.
"So it's gonna be a tough decision for the conference because we have great candidates and it's an embarrassment of riches."
Out after Tuesday's votes
Texas' Mr Sessions, 68, is the longest-serving representative to throw his hat in the ring to become Speaker.
A former employee of an AT&T subsidiary, Mr Sessions was first elected to the House in 1996 and served until 2019, when he was unseated by a Democratic rival. He returned to Congress in 2021 after running in a neighbouring district.
In Congress, he has served as chairman of the House Republican campaign committee and was once chairman of the Rules committee, a powerful post with considerable influence over the introduction and process of passing legislation on Capitol Hill.
On Tuesday, Mr Sessions was forced to withdraw from the race following the first round of Republican votes after having the fewest number of votes of the seven candidates who participated.
Now in his fourth term as a representative, the 76-year-old Mr Bergman is a retired pilot and former lieutenant general in the Marine Corps. He currently chairs the House Armed Services subcommittee on intelligence and special operations.
In a statement announcing his candidacy, Mr Bergman portrayed himself as a temporary option that can "steady the ship" and "win the votes where others could not".
"The regular functioning of the federal government can't wait on useless infighting and arguments," he said.
After Monday's party meeting, he told reporters: "What I sense is a need to move forward because that's what the American people want from us."
Mr Scott, 53, first emerged as a candidate for Speaker last week after winning 81 votes in a closed door ballot against Mr Jordan. After losing, he supported Mr Jordan in all three rounds of voting.
He is considered close to former Speaker Kevin McCarthy and has described the right-wing rebels that forced his ouster as "nothing more than grifters".
Along with Mr Emmer, Mr Scott is the only other Republican candidate who did not object to the certification of the results of the 2020 presidential election.
Mr Hern, 61, is a former aerospace engineer and businessman and has served in the House since 2018. He's now the chairman of the Republican Study Committee, a position that is often seen as a precursor to leadership positions within the party.
Congressional observers have noted that while he has the conservative credentials needed to potentially win over the right-wing of the party, he is still considered a moderate choice when compared to Jim Jordan.
The owner of several McDonald's franchises, he delivered cheeseburgers to colleagues on Monday as part of his campaign pitch.
After the closed door meeting, he told reporters that his support is growing. "I didn't get in this to come in second or to lose," Mr Hern said.
A native New Yorker, 44-year-old Byron Donalds is a relative newcomer to the US Congress and has served since 2020, when he was chosen by voters in his district in Florida's Gulf Coast.
Mr Donalds is considered an ardent supporter of Mr Trump and is a member of the ultraconservative House Freedom Caucus.
A darling of the party's right-wing, Mr Donalds already garnered some support during the January Speaker battle that ultimately saw Kevin McCarthy secure the position.