Rhod Gilbert: First clear cancer scan for Welsh comedian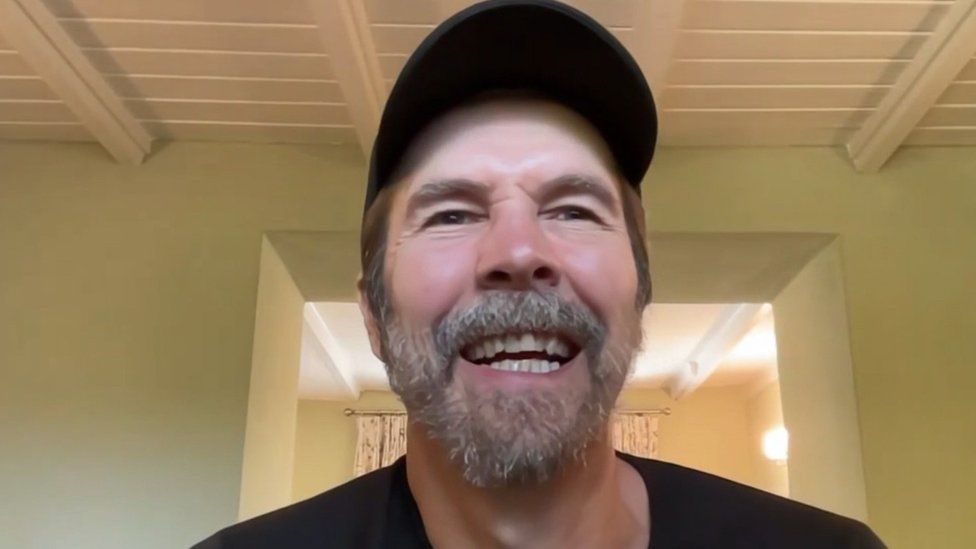 Stand-up comedian Rhod Gilbert has received his first clear cancer scan since undergoing treatment.
The 55-year-old from Carmarthen announced in July 2022 that he had the disease and was being treated at Cardiff's Velindre Cancer Centre.
He had surgery for metastatic cancer of the head and neck, followed by chemotherapy and radiotherapy.
Gilbert said that discovering his cancer had not spread had been "the best day of my life".
He told The Radio Times: "I was back on the road earlier this year when I got a call to say my latest scan had shown the cancer was in the areas they knew about, but it wasn't in my lungs or my brain."
The news was later followed by his first clear scan.
"The best thing was that the tumour had gone, and it was once again an ordinary blood vessel," said Gilbert.
Days before his initial treatment was set to begin, Gilbert - who had already been a fundraising patron for Velindre for a decade - approached a documentary team to film his experience.
"I was lying in bed on the Friday, with my treatment due to start the following Monday.
"I rang the team I knew - there was no broadcaster on board, it was all on spec - and I asked: 'How would you fancy joining me on this journey?'
"It was partly for me because I'd cancelled all my TV work and tours and wanted to have something other than 'cancer' in my diary.
"I knew I wouldn't be well enough to go on stage or TV, but I thought I might be well enough to lie in bed and talk to a documentary team about how ill I was."
Gilbert said it all began when "a tumour popped up on my neck" on the day of a fundraising walk for Velindre Cancer Centre.
His subsequent months of treatment meant he "wasn't well enough even to read or watch television".
In addition to numerous sell-out live tours, Gilbert has been a regular guest on shows such as Would I Lie To You? and Mock The Week over the years, as well as hosting Never Mind The Buzzcocks between 2014 and 2015.
His acclaimed Work Experience programme also ran for nine series on BBC One Wales between 2010 and 2020.