Tinder: Friends and family can help you make a good match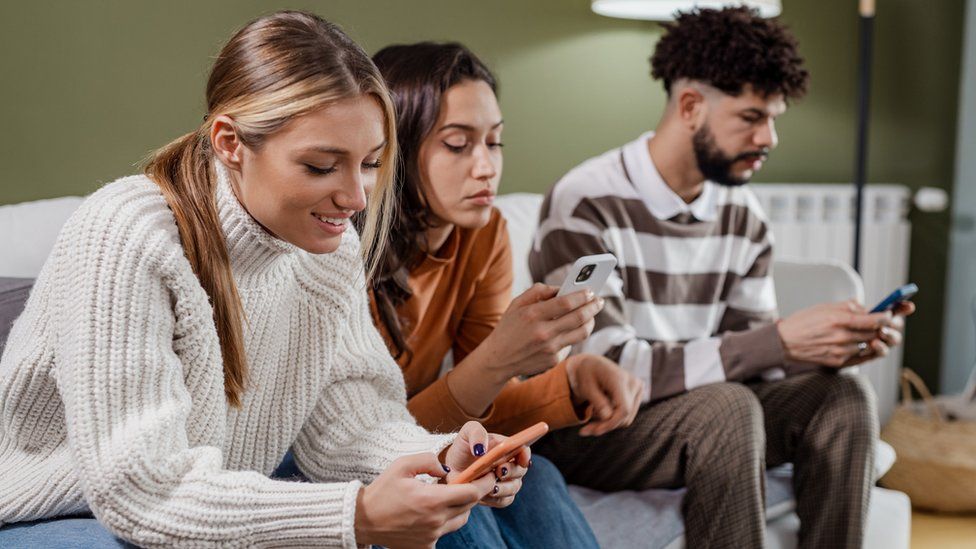 It's often said romantic partners need the approval of our friends and family.
But now the dating app Tinder is taking things a step further, by enabling friends and family of users to recommend potential matches.
Under the Tinder Matchmaker feature, users will be able to grant others access to their accounts for 24 hours so they can suggest likes.
Tinder says it makes dating a "team sport", but one dating expert warned there could be privacy concerns.
It is not uncommon to discuss swipes or potential matches with friends in real life, or even hand the phone to someone else to handle swipes for a while.
The Matchmaker feature sends profiles to a group of selected people, chosen by the user, so they can scroll through and give their opinions.
This group cannot like or reject potential matches, but can make recommendations.
The feature will first be rolled out in 15 countries, including the UK, the US and Australia, before going global in a few months' time.
Dating expert and matchmaker Sarah Louise Ryan says her one reservation about the new feature is the fact that one person's profile can be shared digitally with other people.
The feature means that up to 15 people can view a profile without needing to log in to Tinder to do so.
"One of the main reasons my clients come to me is for confidentiality," she said.
"If you're a dating app user, you're happy to leave a digital footprint - but with other singles on the other side of the swipe.
"So the idea that [up to 15] people that you do not know and don't necessarily see their faces - they're looking at your profile... I don't know how I feel about that."
However, Ms Ryan said that Tinder generally had a good record on data privacy.
Tinder told the BBC: "You can opt out of your profile being shown in the Matchmaker experience, end all active Matchmaker sessions or invite friends to be your Matchmaker via Settings".
In 2016, the company said it would review its data privacy policies after being accused of collecting the private data of users without explicit consent.
In February 2023, it released an "incognito mode", which only shows users' profiles to those they have already liked, for paying subscribers.
Ms Ryan pointed out that matchmaking for friends and family was common in many communities, having worked with Jewish and Sikh clients herself.
"Outsourcing one's journey to finding love is not a foreign concept," she said.
Outsiders may be able to give a more objective view on potential matches, she added, although too many opinions could "cloud one's judgement".
Dating app Hinge launched a similar feature in 2017, but it has now closed down. Hinge has been fully owned by Match Group, Tinder's parent company, since 2019.
Meanwhile, rival dating app Bumble has a feature where individual profiles can be shared with friends outside of the app.
Tinder has been approached for comment.