With Jimi Hendrix paintings, wall murals and even biscuit tins inspired by it, the 1624 painting The Laughing Cavalier still reverberates today, writes Deborah Nicholls-Lee. As a new exhibition opens at London's National Gallery, she explores why that is.
"When I walked in and saw it, I was stunned," says Dominica-born British artist Tam Joseph on his first encounter with The Laughing Cavalier (1624) by Dutch painter Frans Hals (1582-1666) at the Wallace Collection in London. "It was absolutely amazing," he tells BBC Culture.
The encounter with this life-size portrait would inspire Laughing Legend with Stratocaster (2012-2019), one of Joseph's best-loved works. Featuring on the front cover of the recently published survey of his work I Know What I See, the painting brings together two of his favourite things: Jimi Hendrix, who he saw at the Saville Theatre in 1967, and Frans Hals's The Laughing Cavalier (1624), which he describes as "one of the greatest portraits of all time".
More like this:
- The most audacious painters of all
-?The tragedy of art's greatest supermodel
-?10 artworks that caused a scandal
Hals's charismatic Laughing Cavalier, one of art history's most treasured paintings, has been released from the Wallace Collection for the first time since 1888 to take part in The Credit Suisse Exhibition: Frans Hals, which recently opened at London's National Gallery and is the first major monographic show dedicated to Frans Hals in more than 30 years.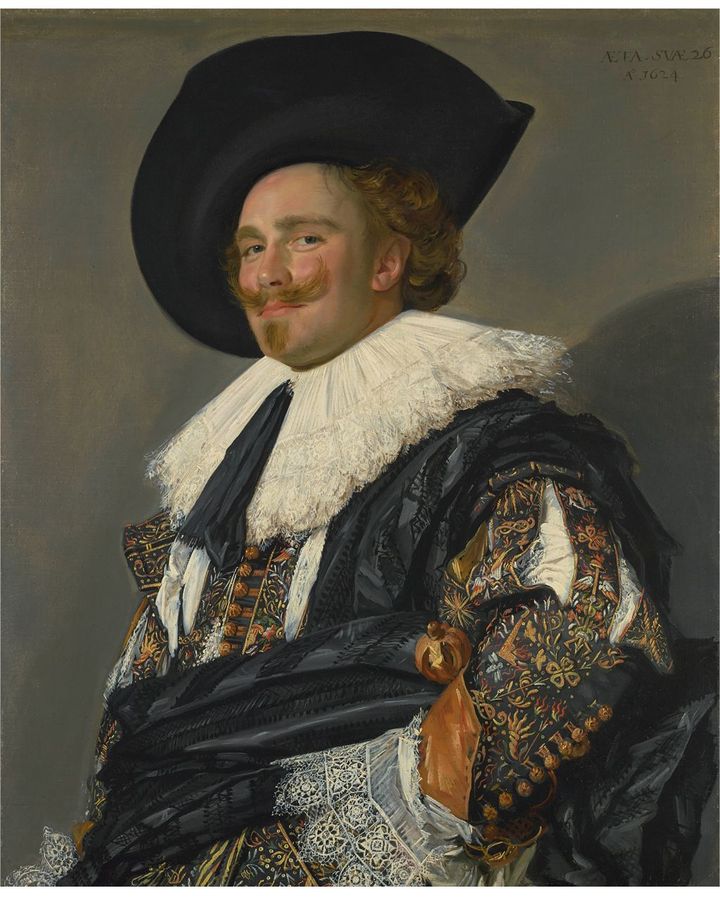 The Laughing Cavalier, 1624, by Frans Hals (Credit: Trustees of the Wallace Collection)
The Laughing Cavalier has become one of the most recognisable faces in art, its subtle smirk and rakish moustache making it on to biscuit tins, brooches and beer advertisements, and inspiring a 1914 novel and a 1937 musical. As we approach the painting's 400th anniversary, it continues to elicit new creative responses.
In 2020, when the pandemic forced the closure of museums, street artist Lionel Stanhope brought The Laughing Cavalier outside, painting it on a wall in Lewisham. Stanhope tells BBC Culture that he did it "to push my painting skills" and because he liked "the humour of seeing something like it on the street rather than a gallery".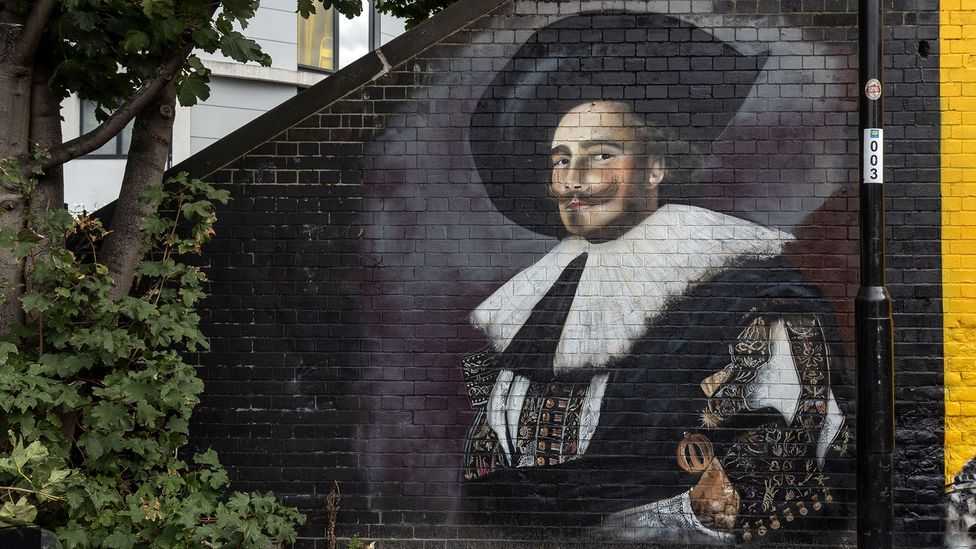 A Laughing Cavalier mural in Lewisham, London, by Lionel Stanhope (Credit: Alamy)
A year later, and still during the pandemic, Ireland-based artist Brad Gray modernised the portrait by swapping the cavalier's head for a laughing emoji and crediting the work to a fictitious Frans HaHaHaHals. "The expression of the Cavalier in the original piece isn't actually laughing but more of a slightly amused look," Gray tells BBC Culture. "I used the 'laughing hysterically' emoji to lift the spirits a little."
Here we have flirty eyes, rosy cheeks and – above all – a nuanced smile reminiscent of that other stand-out portrait painted 100 years earlier: Leonardo da Vinci's Mona Lisa
For Dr Lelia Packer, a curator at the Wallace Collection and the co-author of Frans Hals: The Male Portrait (2021), the portrait is "exceptional". "Portraits tended to be a bit more serious back then," she explains, but here we have flirty eyes, rosy cheeks and – above all – a nuanced smile reminiscent of that other stand-out portrait painted 100 years earlier: Leonardo da Vinci's Mona Lisa.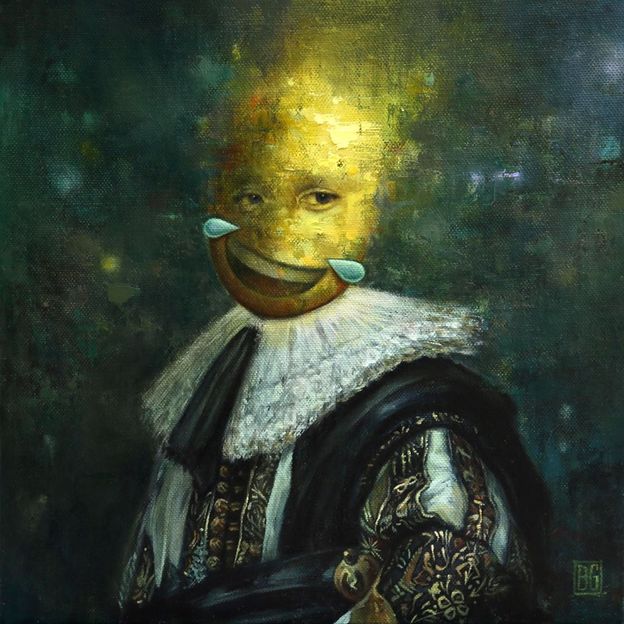 The Laughing Cavalier, 2021, by Frans HaHaHaHals (Credit: Brad Gray)
"Frans Hals enters a scene that is established and yet he completely changes it through the kind of portraits that he makes," says Bart Cornelis, curator of The Credit Suisse Exhibition: Frans Hals, in a short film for the National Gallery. "The beauty of Frans Hals is that he characterises people so incredibly well," he adds. "You can actually relate to these people… That is something that he does better than anyone else."
To his contemporaries, the lifelike portrait "seemed to live and breathe", agrees Packer. "No matter where you stand, he keeps looking at you and it's incredibly captivating." Also notable, she says, is the complexity of the work. The iconography on his doublet, for example, which features symbols of "fortune, strength, virtue and love", is extremely unusual for Dutch portraits at that time and might point to his personal ideals as well as his high education.
It's a painting that means different things to different people. When Joseph saw the flamboyant gold-threaded outfit and the wide-brimmed black hat, he thought: "this is how Hendrix dresses". The guitarist had made a huge impression on him ("I'd never seen a young black man who appeared to be in charge") and it made sense to depict him as this confident cavalier character with his proud hand-on-hip pose.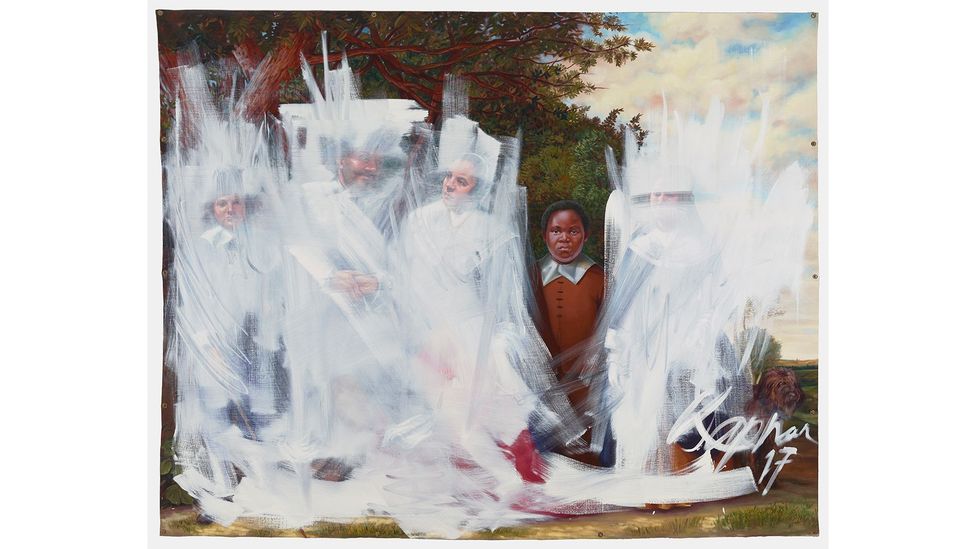 Shifting the Gaze, 2017, by Titus Kaphar (Credit: Titus Kaphar/Photo: Christopher Gardner/ Courtesy the artist and Gagosian)
It was also a way to boost black visibility in art. "In many paintings, there'd always be a diminutive black person", explains Joseph. Hals's Family Group in a Landscape (1645-1648) is a case in point and was revised by American artist Titus Kaphar in his 2017 work Shifting the Gaze, which painted out the white people to allow the lone black servant boy, hidden in the shadows, to predominate.
Going viral
However, this fervour for Frans Hals, who died in relative poverty, has been mostly posthumous. The Laughing Cavalier's popularity is widely attributed to the praise lavished on it in 1868 by renowned critic Théophile Thoré-Bürger, but a dramatic bidding war for The Laughing Cavalier two years earlier saw it fetch more than six times the estimate, placing it the hands of the 4th Marquess of Hertford, one of the founders of the Wallace Collection, where it has resided ever since.
Soon, says Marrigje Rikken, head of collections and exhibitions at the Netherlands' Frans Hals Museum in Haarlem, "every museum in Europe wanted to have Frans Hals paintings". By 1888, the smiling artwork, formerly known simply as "portrait of a man" and believed to be of a 26-year-old unmarried merchant, became known as The Laughing Cavalier ? inspired, most likely, by the sitter's sword and swaggering stance.
The catchy title made the artwork all the more memorable, and The Laughing Cavalier became a motif for wealth and self-assured masculinity that endured well into the 20th Century when the figure was lauded as "the greatest ladies' man" by The Radio Times (1970) and used to sell alcohol and cigars.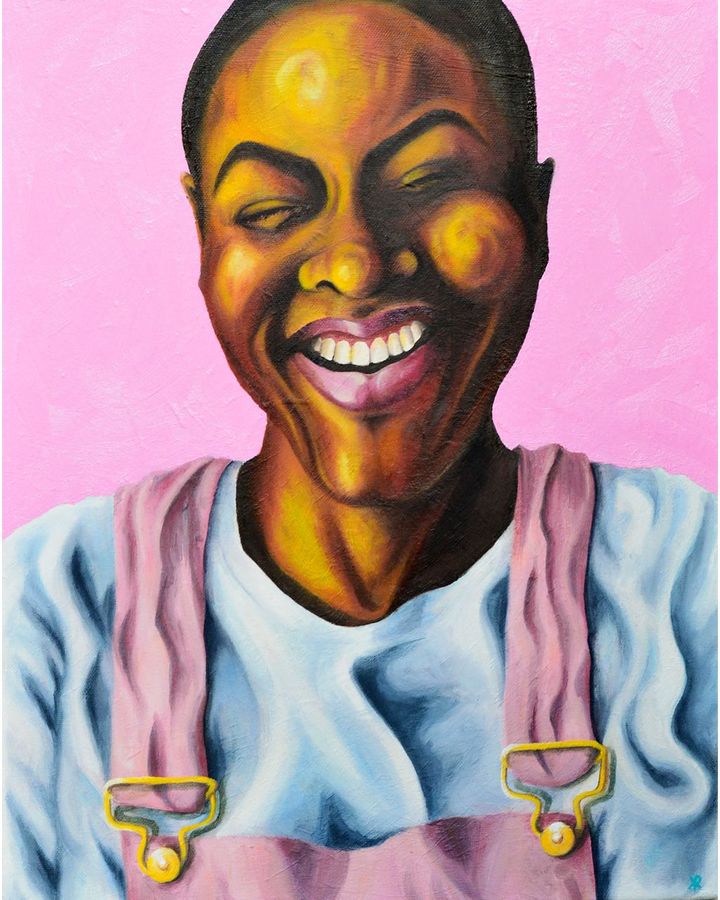 Laughing Cavalier, 2020, by Kate Revill (Credit: Kate Revill)
A proud symbol of patriarchy, this jovial figure is perhaps less lovable when viewed through a feminist lens. Australia-based artist Kate Revill (1985) appears to address this in 2020 by borrowing the title The Laughing Cavalier for a female portrait in a series that she says depicts the "dimples and rolls, gummy teeth and double chins" of "beautiful, strong women".
Back in the 1800s, however, it was Hals's bold, expressive technique and ability to capture the fleetingness of life that drew early modernists to portraits such as The Laughing Cavalier, says Rikken. "They found a kindred spirit in Frans Hals," she says. "He was a very important example for them."
There was an easiness to Hals's brushwork that led German impressionist Max Liebermann (1847-1935) to remark: "Whenever I see?a?Frans Hals?I feel like painting, but?when I see?a Rembrandt I feel like giving up!". And it's said that the US painter James McNeill Whistler (1834-1903) was so enchanted by the techniques employed on Hals's Regentesses of The Old Men's Alms House (1664) that he reached out to feel the paint on one of the faces.
The personality of the sitter radiates from the canvas and his position up front creates an intimacy with the viewer
John Singer Sargent (1856-1925), who is known for the confident, wet-on-wet brushwork pioneered by Hals 300 years earlier, was another ardent fan, stating "it's hard to find anyone who knows more about oil painting than Frans Hals", and reviving in his portraits of men and women a version of the classic "renaissance elbow" pose that we see in The Laughing Cavalier.
Hals's sketch-free, alla prima method was also the subject of a letter Van Gogh wrote to his brother Theo in October 1885 where he enthuses about Hals's technique of "putting things down in one go". Van Gogh applied the approach to his own canvases, writing a month later: "Nowadays ? I like nothing better than working with a brush ? drawing with it too ? instead of making a design in charcoal."??
In many ways, The Laughing Cavalier combines all these elements that critics and artists admire in Hals. The personality of the sitter radiates from the canvas and his position up front creates an intimacy with the viewer. In the hat we see the "twenty-seven blacks" that Van Gogh famously extolled, and the masterpiece also showcases a variety of approaches: from minute detail, such as the lace ruff, to the bold bravura brushstrokes used on the silk sash.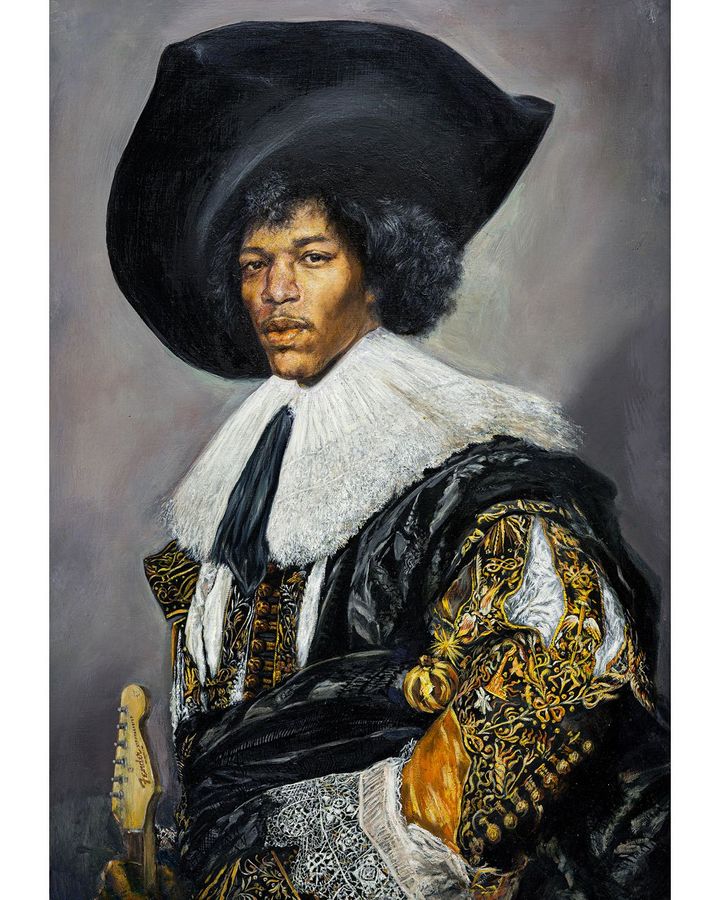 Laughing Legend with Stratocaster, 2012-2019, by Tam Joseph (Credit: Tam Joseph)

"Frans Hals made things that were extremely difficult look easy," says Joseph. Compared to Rubens or Michelangelo, "his brushstrokes look almost flippant", he says. By contrast, Joseph's Laughing Legend with Stratocaster was a "slow and exploratory process" which took seven years ? not least because, unlike Hals, who had life models, Joseph had to work from a photograph, a process he describes as "extremely difficult".

Many of our greatest artists not only created work inspired by Hals, but learnt from him by attempting to replicate some of his most ambitious works. édouard Manet, Antoine Vollon, Mary Cassatt, John Singer Sargent, William Merrit Chase and Max Liebermann all made pilgrimages to Haarlem to make painstaking copies of Hals's paintings.

Joseph is keen to point out, however, that Laughing Legend with Stratocaster is different. "I wasn't trying to copy Frans Hals. It's impossible!" he says. "You may be able to copy one of Picasso's paintings, it may be possible to copy a Caravaggio or almost fool people with a rendition of a Da Vinci ? but that's not going to work with Frans Hals. That technique, I've never seen it used anywhere else."

The Credit Suisse Exhibition: Frans Hals is showing at the National Gallery, London until 21 January 2024.

, an exhibition of Tam Joseph's paintings and sculptures from the 1980s onwards, is on display at Felix & Spear, London until 29 October.

Tam Joseph - I Know What I See is published by Four Corners Books.

If you liked this story,?sign up for The Essential List newsletter?– a handpicked selection of features, videos and can't-miss news delivered to your inbox every Friday.

;